Gear up to indulge in some mouth-watering gastronomical delights at 'Broadway- a multi-cuisine fine dine restaurant at Radisson Blu Faridabad'. Our very own Desi Connoisseurs- Maneesh and Vickrham along with Ajay Khanna, Executive Chef, Radisson Blu Faridabad bring you an array of sumptuous delights from the famous street food lanes of India. Treat your palate to a sensorial tryst at our food festival- "Swadeshi Chatkare" and satiate your soul with some good food. This unique festival will provide you with plethora of famous street foods of India like- 'Litti Chokha, Pav Bhaji, Bombay Toasties, Thepla, Dilli-6 Paranthe, Nihari, Chapli Kabab, Haleem and much more'.
The main concept of this festival is to promote the traditional flavours of our country, which are fading with the fast food culture. The stylish décor is also the perfect backdrop for enjoying these street food flavours. Sharing his thoughts on the upcoming food festival, Mr. Harpreet Vohra, Area General Manager, Delhi NCR, Radisson Hotel Group, South Asia & General Manager, Radisson Blu Faridabad says, "The history of Indian street treats is as varied as the spices used to flavour them, through this food festival we are, bringing back the authentic flavours of Indian street food and have collaborated with the champions of flavours Maneesh and Vickrham to co-host this very special food festival with us.  I am excited to taste all the good food and flavours these two bring to our tables and looking forward to hosting guests from around the city."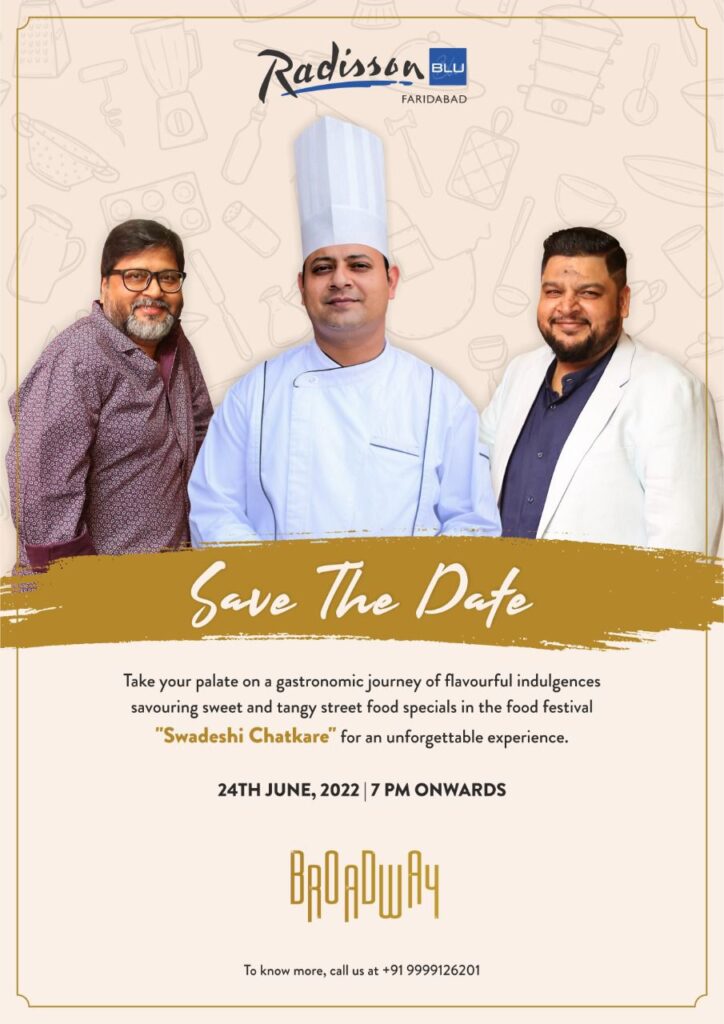 India is truly an amalgamation of cultures and Swadeshi Chatkare aims at highlighting India on a glorious platter. Adding further on the concept of the food festival our flavour champions, Desi Connoisseurs- Maneesh and Vickrham share, "India is known for its unity in diversity, through this extraordinaire food festival we are trying our best to amalgamate the diversified cuisines and flavours of Indian street food on a single platform. We have been working very closely with the chefs of Radisson Blu Faridabad, both of us have put in a lot of effort and thought into curating the menu for this food festival, right from the local flavours to themes everything has been given special attention. The menu is cyclic and each day we will bring you a new diversified flavour of India."
Swadeshi Chatkare is everything that our Indian palates crave for, so try out the amazing regional flavors at the week -long of good food as the food festival kickstarts from 24th June till 3rd May, 7 pm onwards at state-of-the-art restaurant 'BROADWAY' at Radisson Blu Faridabad.