As we are swiftly moving to the endemic stage of the COCID-19 pandemic, the travel is resuming and how!
With the world opening up for travellers, revenge travelling is on an all-time high. Additionally, the coming holiday season poses the perfect time to visit and tick off a few destinations from your bucket list. However, as much as the travel plans excite us, packing for it often gives us jitters! Well, no more!
With perfect travel partners, stay assured to not miss on the style and comfort quotient for your travel packing this time around.
Here are a few travel-essential products from the house of The Leather Story, that will make ensure you have a pleasant packing experience making your travel well-organised.
The Leather Story, founded by Aditi Kapur Chawla, is a premium leather brand specialising in organisers and accessories, aiming to help organise stylishly and effortlessly. It is a unique tale of design and artistry, offering a wide range of products. The Leather Story curates products for avid travellers who are moving around the world, the corporate employees working out of an office or even at home, the homemakers who look to organise their space, and fashion-conscious individuals inclined toward the latest trends. Aditi identified all these categories and created organisers and accessories to cater to all.
Here are a few travel-essential products from The Leather Story:
Cellphone Sling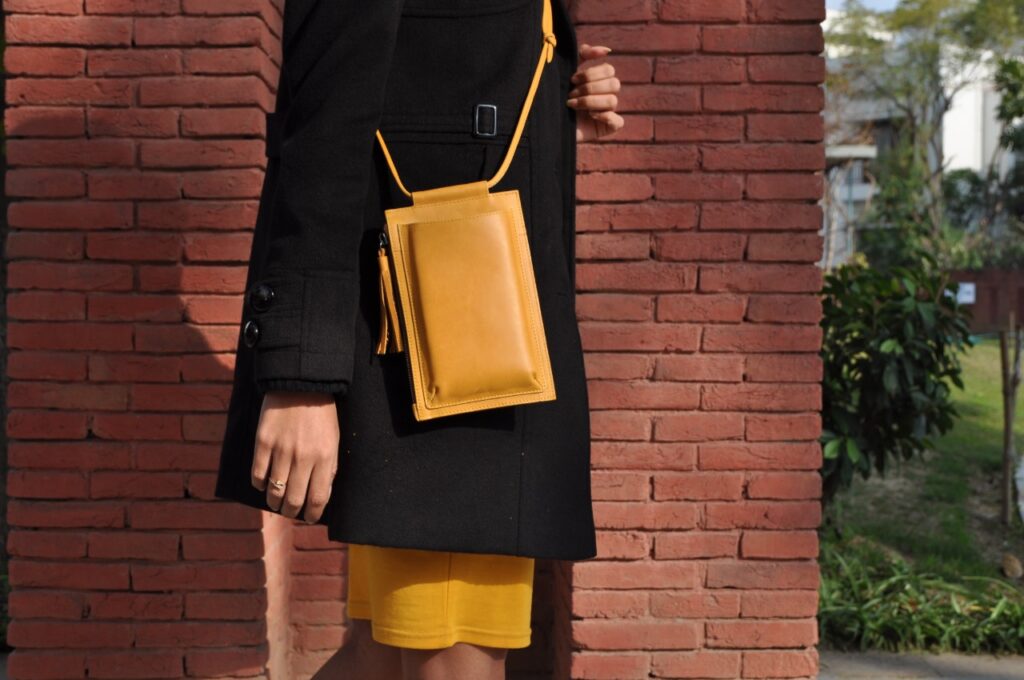 The companion Sling Bag is designed to carry your essentials in a compact size while keeping your hands free when on the move. It is a perfect size to fit the essentials like cards, money, keys, and all that one needs while on the go seamlessly along with your phone. It comes in colour options of Sunkissed Yellow, Blush & Navy to maintain your chic quotient.
Chic Slim Ladies Wallet
Wallets are important no matter what you do, as one cannot imagine leaving their house without one. Designed to keep your money and cards organised, the Chic Slim Ladies Wallet adds a splash of colour to life, available in colours everyone would love no matter the age. It's easy to carry wherever you go and almost matches any outfit worn. It comes in a variety of colours like Scarlet Red, Sunflower Yellow, Bright Blue, Lilac, Black and Strawberry Pink so feel spoilt for choice.
Jet Setter Wash Bag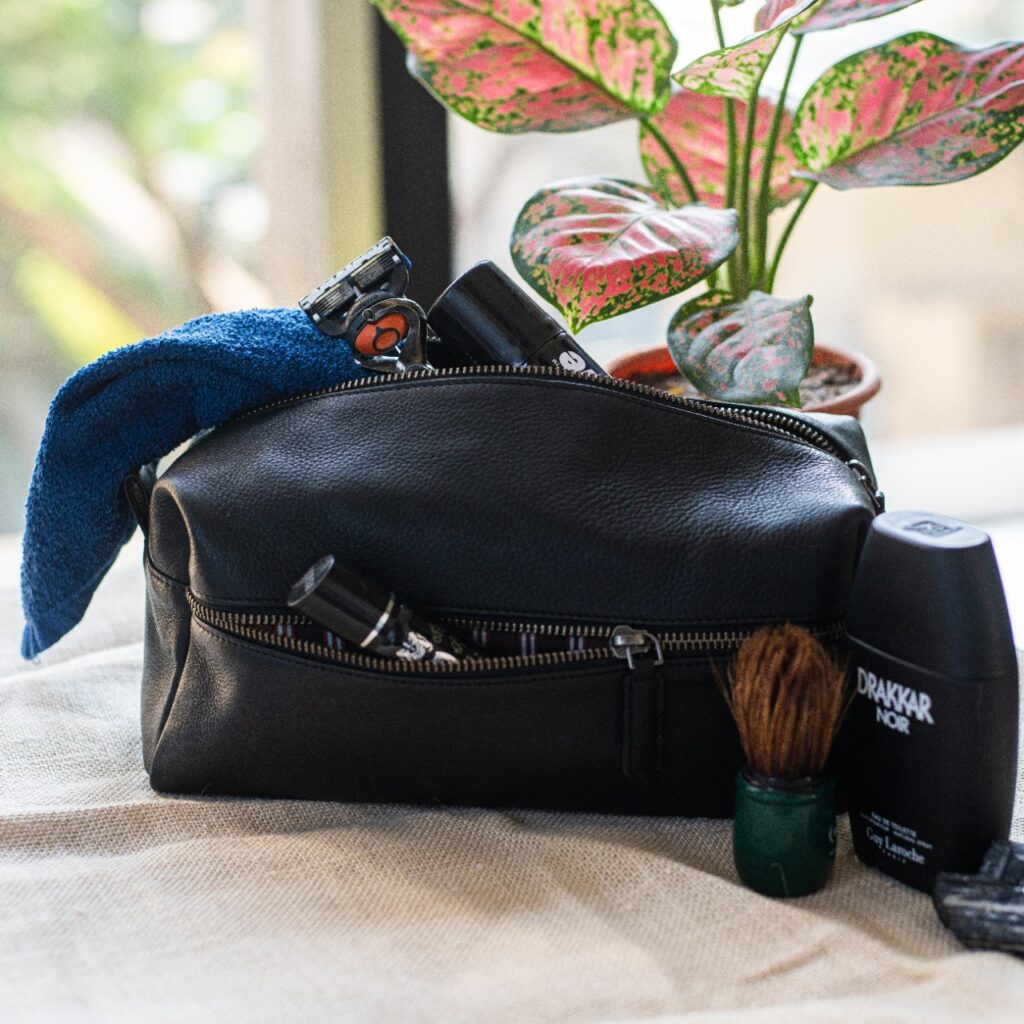 Everyone likes to remain organised while travelling and the Jet Setter Wash Bag helps you with that. It is durable and stylish and big enough to fit all your essential toiletries, grooming products and other items without any problems considering space. It is highly functional with a spacious main compartment and two other zippers on the inside and outside, allowing one to organise easily and keep things as per need, eg: all toothbrushes together and other items separately. The tab on the side eases the use of the zipper. A chic yarn-dyed striped inside lining makes it durable and even more beautiful. It comes in the standard colour options of Cognac and Black as well as in a chic Teal Blue colour.
Traveller Watch Roll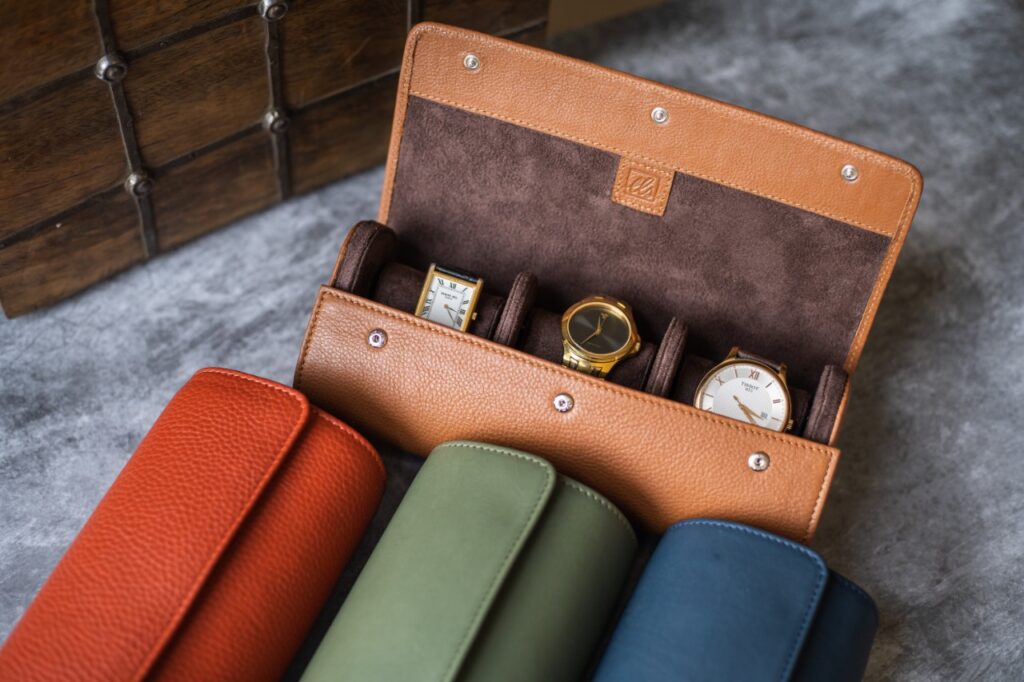 Watches are mostly a prized possession for everyone, and this watch roll will ensure that you and your partner's watches are well-kept while you sleep or go for a dip in the pool. It can also be used to keep bracelets and bangles organised while on the move. It can secure up to three watches and can easily fit into your suitcase while travelling. It is also a great gifting option for your dear ones who love their watches or hand jewellery, making it easier for them to find them for their next outing.  It comes in beautiful colours like Navy, Gun Leaf, Tangerine and Tan.
Chic Travel / Vanity Kit
This chic kit is your ultimate travel accessory. It is made out of soft grainy leather to construct a beautifully tapered silhouette. Designed to be a multi-functional travel kit, it can be customized in different ways based on your needs. You could carry your toiletries, makeup or other everyday essentials. It is available in Navy, Red and Nude colour options.
Companion Cuff Link Box
A compact and stylish 100% genuine leather cuff links box to carry all your favourite accessories while you're on the move. It has a magnetic closure and can hold up to four pairs of cufflinks.
Jet Setter Bi-Fold Travel Wallet
The Leather Story brings you this exquisite Leather Jet Setter Bi-Fold Travel Wallet to let you carry your essentials while travelling, hassle-free. A chic yarn-dyed striped lining enhances its looks and durability. It has seven compartments that will help you manage all your documents easily and make your travel simple and organised. It comes in colour options like Cognac, Blush and Black-Navy.