Riyo Herbs, brings a new and international concept, tailored for all skin types to redefine your outlook on skincare and help nurture the beautiful you. The brand passionately believes in the healing power of nature and hence offer products that are sulphate and paraben-free. The Company's vision is to create a pure and natural skin care range consisting of contemporary Botanical Actives to let people connect to nature.
Riyo Herbs ensures a healthy concoction of advanced sciences and natural extracts to provide you with utmost benefits for an all-round personal care regime.
With a keen interest in the customer's well-being, Riyo products go through a series of tests to ensure that the products are non-toxic, clinically tested and safe-to-use. The products are charged with nature's unparalleled healing powers and aim to keep your skin free from problems like ageing, blemishes, acne, dark spots, irritation, dead skin cells and sunburn.
Riyo Herbs has a R&D team that enables them to explore new territories and innovate for future products. A future where beauty products don't just beautify but also protect, pamper and nourish your skin.
Here are a few products from Riyo Herbs that will leave your skin glowing.
Riyo Herbs Hydration & Glow serum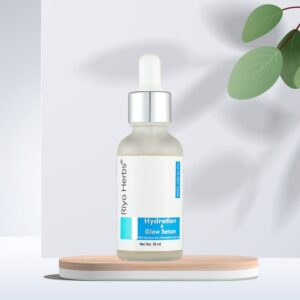 Riyoherbs Hydration & Glow serum is a skin lightening and brightening formula. It helps reduce dark spots, brightens complexion and also improves skin texture, leaving the skin well-hydrated and glowing. It also reduces tanning & prevents skin from damage caused due to sun rays, makeup and other environmental damage.
Riyo Herbs Sun Protection Spray SPF 50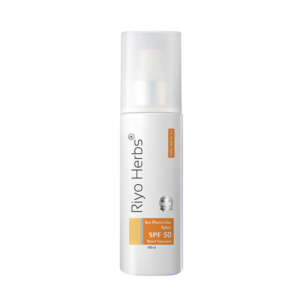 Riyo Herbs Sun Protection is a broad-spectrum SPF50 spray which is a lightweight, non-greasy, daily-use formula that protects skin from harmful UVA and UVB rays. It is enriched with the goodness of carrot oil, watermelon extract and vitamin E rich in Vitamin A & E that helps to avoid sun damage and fights signs of ageing. Its non-oily, non-patchy, non-sticky formula spreads evenly and gives a protected shield to the skin. The simple shake and spray sunscreen make it very easy to use after applying any SPF cream on moisturised skin. It can be easily reapplied after makeup to give the skin more protection during the day.
Riyo Herbs Green Tea Gel Cream
Riyoherbs green tea gel cream is enriched with the goodness of green tea extract, Niacinamide, Aloevera and Vitamin E & C that benefits oily and acne prone skin, leaving skin refresh & oil free. Green tea has anti-inflammatory and anti-microbial properties that reduces acne scars, blemishes and acne growth.
Riyo Herbs De-Tan Cream
Riyoherbs De-Tan cream is a no-bleach cream for sun removal, skin brightening and even tone skin. It is formulated with natural extracts like Grapeseed Oil, Olive Oil & Chamomile Oil which gives instant whitening and fair looking skin. You will see visible results with first use of the cream.
Riyo Herbs Steam Distilled Rose Water
Riyo Herbs Steam Distilled Rose Water is a pure form of rose water that is processed with the ancient technique of steam distillation. It tones up the skin, rejuvenates skin cells, controls excess oil, prevents acne, delays ageing & brings a natural glow.
This Rose Water can be used as a face toner, makeup remover and body mist and can also be added to your face pack powders for extra benefits. It has anti-inflammatory properties that help to reduce the redness of the skin and reduce puffiness around the eyes. Spray the required amount of Rose Water to get these benefits as it is in its purest form, made from handpicked roses from the fields directly. It has no artificial fragrance and or alcohol.
Riyo Herbs Night Cream
Riyo Herbs night cream comes with the goodness of collagen, retinol, centella asiatica extract, cocoa butter, Shea butter & liquorice. These extracts help in reducing the fine lines and wrinkles. Daily use will make your skin firm and prevent sagging.
Riyo Herbs products are available on company's official website: riyoherbsindia.com and other leading e-commerce portals including – Amazon, Flipkart, Nykaa, firstcry, Recode etc.