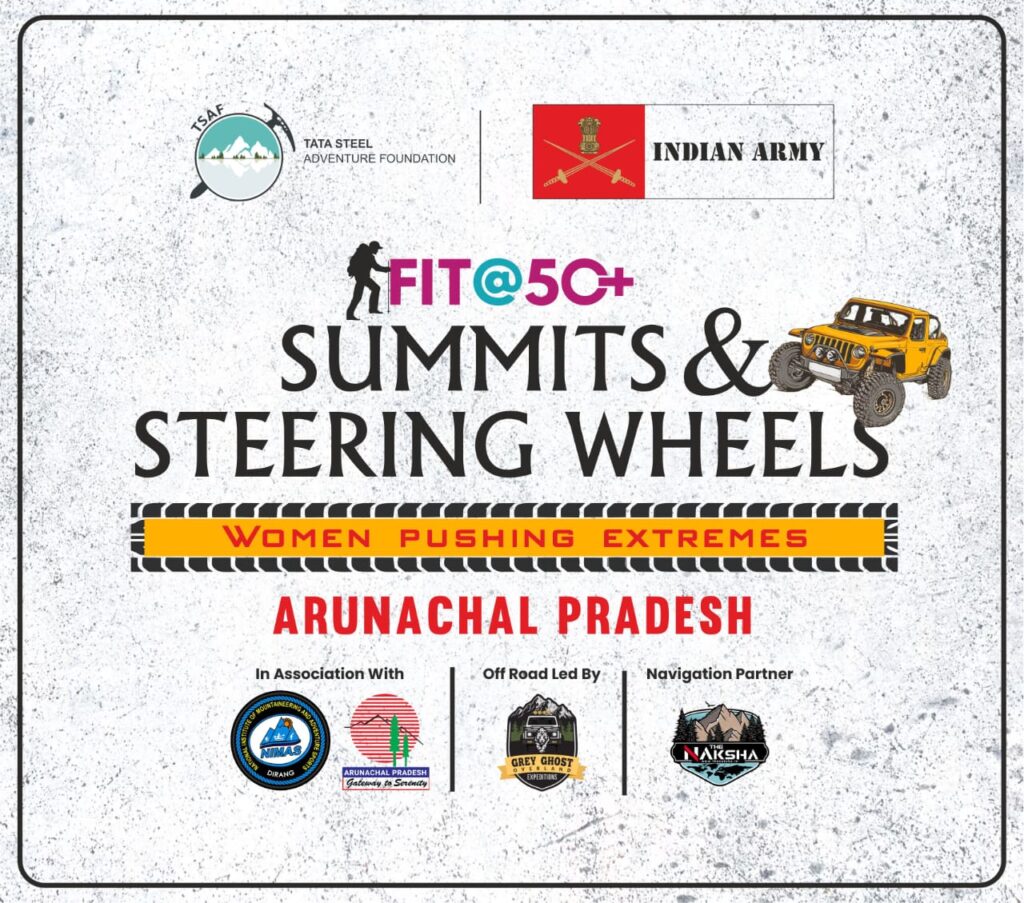 In a groundbreaking effort to shatter gender stereotypes and empower women, with the motto of embracing adventure at any age, Tata Steel Adventure Foundation (TSAF) has joined the force with the Indian Army in a 21-day Himalayan Odyssey, "Fit@50+ Summits and Steering Wheels" – Women Pushing Extremes expedition. A fearless team of 14 women led by ace mountaineer Padma Shri and Padma Bhushan awardee Ms Bachendri Pal is all set to embark on this unique 21-day challenging combo expedition of the high-altitude trek and difficult 4*4 offroad covering approximately 300kms across Arunachal Pradesh. This unusual voyage is scheduled to be flagged off on October 11, 2023, from the alluring and panoramic town of Dirang.
Often referred to as 'Paradise on Earth', against the backdrop of majestic mountains and pristine forests, a wide spectrum of adventure activities awaits the team, promising an unforgettable experience. Known as the 'Dawn-Lit Mountain Province' or 'the place where the sun rises,' Arunachal Pradesh also shares its borders with Bhutan and Myanmar, further enhancing its allure. Beyond adventure, the expedition offers border, cultural, heritage and battlefield tourism opportunities. It offers the FIT@50+ enthusiastic women a chance to explore the cultural diversity and scenic beauty that extends beyond its boundaries. The Indian Army will lead the expedition on the ground and will be actively supported by the local formations. Embarking on this expedition, the participants will have first-hand experience of exploring the stunning Himalayan state very closely, traversing through the carbon-negative region of the country.
The major highlight is the historical Bailey's trail and off-roading through Bum La, Damteng Mago and others. Inspired by India's Fit India Movement initiated in 2019 by the esteemed Prime Minister, Shri Narendra Modi, the concept of promoting physical activity among women aged 50 and above found its roots in the visionary mind of Padma Shri and Padma Bhushan Awardee Ms Bachendri Pal. Renowned as the first Indian woman mountaineer to conquer Mount Everest, Ms Pal's imagination was sparked by the idea of empowering women in their 50s and 60s, often unfairly perceived as weak and unfit.
FIT@50 has resonated far beyond its participants, promoting that fitness is a vital aspect of life for individuals of all ages, irrespective of gender. It left an indelible mark on the collective consciousness, inspiring countless others to pursue active, healthy lifestyles. The expedition is all set to leave an indelible mark on the collective consciousness, inspiring the aspirations of many to stay fit and active at any age. This October will be all about Summits and Steering Wheels with women pushing extremes.
This unique collaboration is a powerful testament to the belief that age is merely a number when embracing adventurous challenges, provided one is physically fit. Trusted by the Indian Army, Oxbow Media has brought together the participants and reputable brands in this unique endeavour, which is all set to create history in adventure. Summits and Steering Wheels, Women Pushing Extremes is ably supported by NIMAS, Arunachal Tourism, The Naksha and the Offroading challenge is led by Grey Ghost Overland Adventure.
Shying away in the Northeastern corner of India, Arunachal Pradesh, though it may be an introvert regarding tourism, is a land of abundant travel opportunities. Adorned with an unspoilt landscape, this Northeast state of India is a place every nature lover and explorer should visit. A treasure trove of culture, nature's beauty, rich history and warm people, Arunachal is truly a land that you cannot afford to miss.