Post a short summer spell, the weather has changed and monsoon showers have brought a relief from the scorching sun. The monsoon season is known as the season of fun and frolic. Monsoon brings the nature to full bloom and there is beauty all around. However, no matter how much we love this season, monsoon also has a downside to it. The weather causes an increase in humidity, grime and pollution, which can intensify your skin and hair woes. Your skin requires all your care and attention in this season as dust particles easily settle on your skin which eventually damages the regular soft and toned look your skin possess. Similarly, your tresses also need a lot of care in the rainy season. Your hair remains moist for longer due to the humid climate and wet hair may lead to other problems.
Stay ahead of the weather woes and make the changes in your skincare regime in order to maintain that glowing skin this monsoon season.
Here are a few products from WOW Skin Science that will ensure you healthy and glowing skin.
Born in India, WOW Skin Science delivers high-performance, plant-powered solutions backed by science. All the products are 100% vegan hair care, skincare, face and body grooming essentials for your lifestyle. Featuring all-natural solutions that are free of animal testing, parabens and sulfates for a healthier you, WOW Skin Science believes in holistic care to balance the mind, body and spirit! WOW Skin Science curates authentic, vegan beauty that bridges the gap between natural remedies and modern science. Its potent and premium products are powered by bioactive ingredients to address present-day skin, hair and wellness concerns. WOW's natural essentials are made in India without artificial additives, harmful synthetic chemicals or animal testing, ever.
Vitamin C Foaming Face Wash
Before you apply any skin care products, wash your face with this Vitamin C face wash. By gently eliminating a layer of dead skin cells and controlling excess sebum, the vitamin C face wash helps to revive dull skin. The face wash has a built-in face brush with soft silicone bristles that can be used to deep clean your skin's surface and unclog pores.
Water Resistant Sunscreen Lotion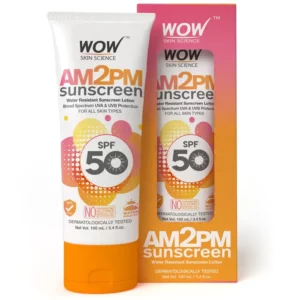 Applying sunscreen is the most important step of your skincare routine. WOW Skin Science's Water-Resistant Sunscreen Lotion SPF 50 will not only protect your skin from sun damage but will also protect your skin on rainy days.
99% Pure Aloe Vera Gel
This is like a two-in-one solution for your hair and skin. Aloe vera from WOW Skin Science is 99% pure, meticulously harvested from the plant, and packaged to preserve its restorative and renewing properties. It is a multipurpose beauty product made for maintaining healthy skin, hair, and scalp.
Vitamin C Clay Face Mask
It is a moisturising solution that removes pollutants and dead skin cells without affecting the natural lipids and moisture barrier of your skin. Made with Kakadu plum, activated vitamin C, shea butter, bentonite clay, jojoba oil and essential oils of lemon and orange, this mask helps to replenish the skin's natural moisture levels, increasing the elasticity and suppleness of the skin.