We recently visited the all-vegetarian restaurant OMO: Soul Food Community at Galleria Market, DLF Phase IV, Sector 28, Gurugram. It is a beautifully done café that serves vegetarian food made with locally-sourced organic and fresh ingredients. The interiors of the Café are aesthetically done in earthen colors with ample natural light. The greenery, wooden décor, sunlight and the open set-up of the Café resonates with the all-vegetarian menu. It is the most perfect setup to enjoy all the good food, fresh juices and amazing coffee that this place has to offer.
Here is a conversation with Mr Rajan Sethi, Founder & Director, Bright Hospitality Pvt. Ltd. Mr Sethi is a Master's in Business Administration from International Business Macquarie University, with an entrepreneurial bent of his mind and culturally rooted heritage for food, over the passing generations in his family have ostensibly studied the cuisines and Indian food and beverage market, introducing some of the most culturally strong concepts in Indian cuisine. He relentlessly works towards his dream to bring eclectic cultures together across the country and globally through cuisines and ingredients.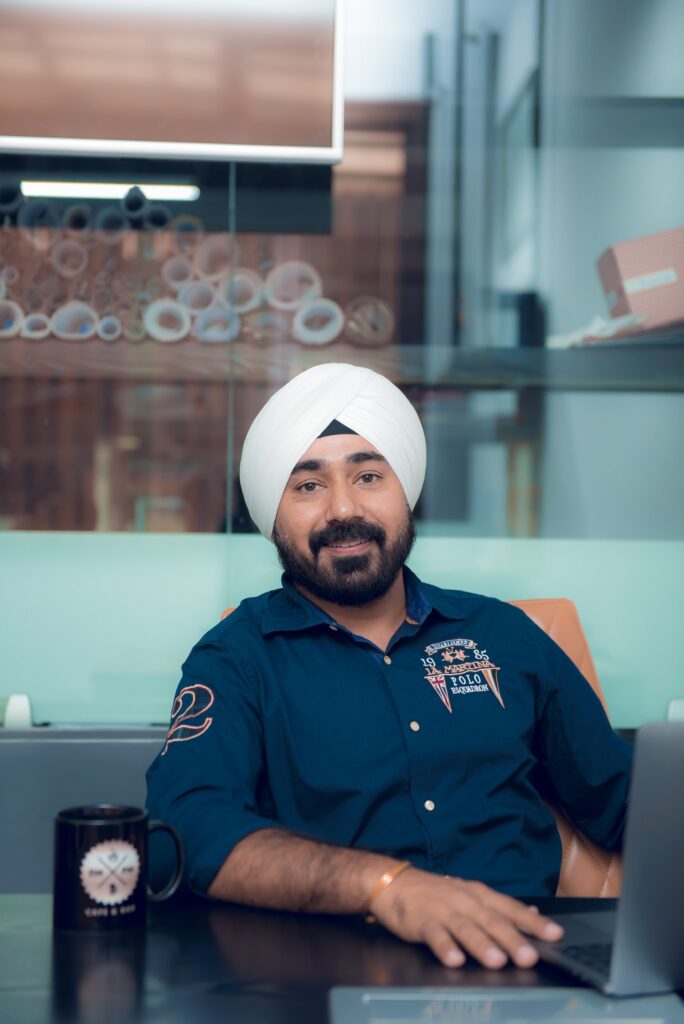 His firm belief in awakened life and creating a space for his patrons for a refreshing pause by bringing and serving the best produce made him introduce three new concepts: redefining the premium casual café lounging experience. Rajan has envisioned the current gap in the culinary world of connecting food to the local produce and came up with his recent venture – OMO café. OMO empowers healthy living with high-quality seasonal produce and delivers the promise of being directly from "Farm to Fork", transcending a humble meal into an appetizing ordeal. Ascribing the roots of each dish, this all vegetarian-menu identifies the name of the city/region, the main ingredient is sourced from.
How would you describe the concept of OMO?
With the renaissance of art, culture and tranquillity, OMO, brings in a fresh breath of culinary delicacy, prepared from the most celebrated organic produce that tempts the taste buds of every epicurean in the town. Built on the ethos of a more awakened lifestyle; accustomed to healthy living and smart-conscious dining, the sanguine bespoke chic café, is handcrafted for a euphoric embrace of sustainability and nostalgia. Indulging in unison of unique and distinctive flavours, the menu is handcrafted by our team of chefs with relishing all-natural ingredients to foster clean eating. The premium café resonates with the hymns of respecting nature, its produce, and living in harmony, and provides a refreshing pause to an otherwise chaotic life. OMO is a new beginning of your inner voice that understands and celebrates the values that truly matter and harbour the spirit of minimalism and optimism. A blend of unique flavours, distinctive experiences, and finer intentions: OMO is all that and more.
According to you, what is the USP of OMO?
Sustainable and organic produce.
From where do you source your ingredients, and how do you test the quality of your ingredients? 
Across all our concepts, we are very particular about sourcing. OMO, as a concept, is driven by the produce and keeps evolving around it. We source our fresh produce worldwide to ensure we gather the best of ingredients, as we believe exceptional ingredients and cooking techniques give exceptional flavours. Our sourcing at OMO is around and across the world. We source our cheese from Mukteshwar, Jammu, Maharashtra, Italy, Netherlands and France. While we source mushrooms from Italy and Delhi, Vanilla from Kerala, Apricot from Ladakh, Asparagus from Peru, Avocados from Manipur hills, Naga Chilli from Nagaland and Hemp seed from Uttarakhand. We ensure all these local producers take their craft seriously and practice sustainable farming. To ensure the quality of these ingredients, we artfully sniff, taste and feel the texture of every ingredient. For instance, in everyday life, fresh produce will smell and taste fresh, the texture and firmness of the vegetables indicate their freshness. All these factors enable us to choose ingredients wisely and bring them to our restaurant as fresh as they are fantastic.
What is your philosophy on food and dining?
Good food seduces the senses, nourishes the body, calms the mind, and elevates the soul.
What is your favourite vegetarian dish from your restaurant OMO?
Grilled Kalari which is made of cheese that's unique to Jammu.
How do you see the vegan food trends in Delhi?
Today's woke generation believes 'you are what you eat'
Sustainability, non-violence, and respect nature are common themes
Replacing animal-based foods with plant-based foods has become the new currency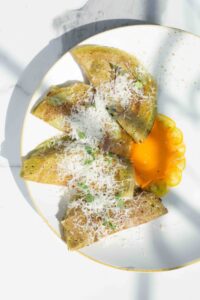 What kind of food did you eat growing up, and what food memories did it create?
My late father would often say, "In the quest for wings, don't forget your roots". Our roots belong from the time of undivided Punjab, and I had the great fortune of eating rich flavourful home-cooked food from my grandmother who migrated to India post the partition. The meals at home were full of distinct flavours and richness with the aroma of her slow process cooking which used to be in the whole house mesmerizing us. The powerful thought which my late father seeded always made me introspective and when the opportunity to create a new restaurant came up, I decided to revisit my roots. Our brand, Ikk Panjab is a homage to my grandmother's food which was back in time and never experienced again after her. It's a discovery of one's roots via food.