One8 Commune, a chain of restaurants by Indian cricketer Virat Kohli, is best described as the most non-pretentious space, the country's first-ever one-of-a-kind comforting resto-bar, holding to its 'Commune Sensibility'. This cafe is known for its relaxed, comforting vibe and, of course, the menu which is incredibly detailed comprising of a whole lot of options.
One of the best glories of the One8 brand is the fine line of culinary dishes that Chef Pawan Bisht creates. Chef Pawan Bisht is the Corporate Chef and R&D Executive of One8 Commune. With an experience of over 12 years, Chef Pawan is known as the Dark Horse of the Indian culinary industry. Chef Pawan joined IHM Mumbai straight out of school and trained in Kitchen Operations for three years. Post this he was selected by Olive Bar and Kitchens' very selective Chef Training program in New Delhi, where he gained experience at Olive at the Qutab and Olive Beach. Chef Pawan also assisted with the opening of Soda Bottle Openerwala and Olive bistro and garnered valuable pre-opening experience. For this, he extensively travelled through Mumbai and explored all the different cuisines in Mumbai – Parsi, Irani, Mohd Ali Road, and Colaba cuisine.
Here is an interaction with Chef Pawan Bisht where he shares his journey and how he conceptualised the menu of One8 Commune restaurants.
 Who has been your biggest influence to get you to where you are today?
I think it was my personal drive and the support of my parents. I have also met some great chefs along the way as mentors, colleagues and friends who have inspired and motivated me. Apart from that, I have a passion to cook and create, which has kept me going. A lot of inspiration is from Chef Vernon Coelho.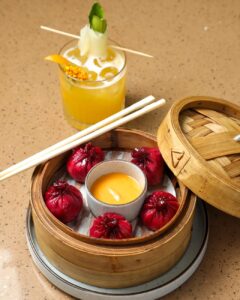 How do you go about menu planning? What's the process from picking the ingredients to getting them fresh into the kitchen and dishes?
A typical day in my life is me shuffling between one restaurant to another other. I try to visit at least two One8 a day, see what's going on, conduct food trials, get guest feedback and speak to my team. Post getting feedback from my team and my guests, I plan my next menu where we incorporate what is in season along with what the guests want, which again must be factored in with the logistics of the kitchen. Post that there are market surveys and supplier meetings to get the freshest and best quality ingredients at the correct rates. This is followed by food trials and tastings, recipe standardization and then we launch the new menu.
How would you describe the food you create at One 8 commune to someone who's never experienced your kind of food? 
The food that one can't resist. What sets the One8 tribe apart is the fact that it holds a charm that resonates from every corner of the newly launched eatery. One of the crowning glories of the One8 brand is the fine line of culinary dishes. Those who have visited One8 Commune have praised our signature dishes like the Black and Fiery Chicken along with the Mushroom Googly Dimsums. With a crafted legacy, we at the kitchen have experimented with new dishes like Korean Chicken and Bamboo Cashew Nut Tofu, among others. From regional dishes packed with flavour to desserts that delight the sweet tooth, One8 Commune has everything in store for you! 
 According to you, what is the USP of One 8 commune?
World cuisine at its best, with a great ambience and vibe. We have something for everyone
How would you describe your cooking style?
Clean, minimalistic and delicious. I like to let my ingredients shine.
What is your favourite ingredient to create with?
Fresh herbs and local fresh ingredients.
Is the menu of your outlets the same or do you change it according to the place and guest preferences? 
The new menu at One8 Commune is fresh, healthy and delicious. We have kept 70% of the menu vegetarian and have added a lot of local grains like millets, bajra and barley in our dishes keeping in mind the health-conscious sensibilities of our guests. It's a vast menu encompassing world cuisine made with the best ingredients. We take into consideration the production of the city we are in and the tastes and preferences of the clientele in that place, but that affects 30% of the menu. The standard 70% is the same everywhere.
Presently how many outlets are there? Any plan of expansion this year?
We have five outlets currently and there is a full expansion plan that we have for this year where you will see at least three to four new One8 Commune outlets coming in the next two months. Plus, many more in the pipeline, which I can't disclose right now. But stay tuned, it's going to be a lot of fun!
What's your signature dish?
My signature dish is the Mushroom and truffle oil dim sums, red and white quinoa salad and our signature French stews that we have just launched on the new menu.
Which is the best-selling dish from your menu of One 8 Commune?
The mushroom and truffle oil dim sums, red and white quinoa salad are one of the highest-selling dishes on my menu. In fact, it's also Virat Kohli's favourite.
What is your favourite piece of kitchen equipment?
It has to be the grill! I love my meats, to eat and cook. and I feel that if you have a good grill or a hot plate in your kitchen, you don't need much more!
What do you think is the most hyped food trend?
Molecular gastronomy it's overhyped and done to death! I feel it adds nothing to a dish.
What is your favourite thing about being a chef?
Making mealtime memorable and special for my guests and bringing a smile to their faces through my food