Comorin is an all-day dining and concept store with an extended bar located at the finest hub, Two Horizon Centre, Golf Course Road Gurgaon. The ambience at Comorin is delightfully done and has a sitting capacity of 100 people with a private dining area, coffee shop, and a concept store. It is one place where you need to try almost everything on the menu, because everything is full of flavour and will leave you wanting more!
The menu at Comorin is curated by the most renowned celebrity Chef Manish Mehrotra who has served across the world! Here is an exclusive interview with Chef Manish Mehrotra talking about his childhood food memories, his favourite pastime and about Comorin. 
What were some of your earliest associations with food? What kind of food did you eat growing up, and what food memories did it create?
In my earliest food memories, I belonged to a vegetarian household, and they never use onion and garlic while cooking. And the earliest food memories, I would say eating eggs on the terrace because eggs were not allowed in the kitchen. But one thing I learned from it was that even vegetarian food with fewer ingredients, without onion and garlic can be very tasty. So, when you are cooking, you don't really need a hundred ingredients or lot of masalas. Even simple ingredients can make a wonderful dish.
What are the most important considerations when crafting your menu?
My most important consideration is that the menu should have a seasonal influence on it. The basic flavours of the dishes should be correct and tasty. So, things which we consider are that the menu should be seasonal, dishes should be tasty, and they should go with our concept.
According to you what is the USP of Comorin?
USB of Comorin is regional Indian food. The dishes on Comorin's menu may not be very popular for the masses, but they are unique. There is no space for general popular dishes like butter chicken, but we have regional dishes with a little twist on them. Like we serve Pao Bhaji with the beautifully caramelized onion Paos, we have Champaran Mutton which is served with the pickle, sattu roti and ole chutney. So, these are unique dishes, but very delicious and traditional dishes served in a cool manner. That's what Comorin's USP is.
Which is the most selling dish on the menu?
The most selling dish in Comorin is our Poa Bhaji and Champaran Mutton.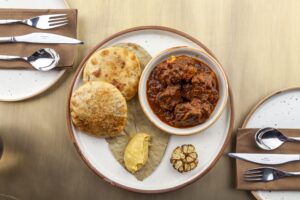 Does the menu of Comorin remain consistent all through the year or do you keep on changing it?
We keep on changing the menu of Comorin according to season, but along with the menu change, we keep on doing festivals like Navratri festival and Ramazan special. Now we are coming up with the chat special and slowly, as this year passes by, we will keep on doing different menus at Comorin. Even if there are no major changes in the regular menu, we keep on changing dishes in such a way and doing festivals that it is in sync with the seasonal changes.
Which ingredient according to you is quite underappreciated? 
I would say a lot of ingredients in India are underappreciated in terms of vegetables in ingredients. Whether it is a local vegetable like bitter gourd or jackfruit, all these things are a bit underappreciated. But I am very sure that they will very soon take the centre stage.
What is your philosophy on food and dining?
My philosophy on food is that whatever type of food you do, it should be tasty. And dining is not just about food anymore, but an experience where food, service, ambience and everything else plays a very important role.
Is there a culinary technique that you use in a different or unusual way?
Yes, I use the traditional European braising method for cooking all my meats. So, all my meats are not cooked on flame. They are all slow-cooked, braised in the oven, and that really gives it the juiciness. When it is cooked slowly for a longer period of time, the meat becomes tender, and it shows in the dish.
What is your favourite thing about being a chef?
My favourite thing about being a chef is seeing a happy guest and curating new dishes.
What is your favourite thing to do when you're not cooking?
When I'm not cooking, I watch movies, that is my favourite thing. I keep myself updated with different kinds of movies. I even watch Hindi-dubbed south Indian movies.
What advice would you give to young chefs just getting started?
Advice to the future generation is that the first five years in the kitchen in the restaurant line is very, very tough. And you must keep your head down, follow instructions and make sure you become strong in your basics. If you survive for the first five years, then sky's the limit. You can reach places. So don't worry, the first five years are going to be really tough, but it will soon be fine.