Holiday Village Resort & Spa has a very unique traditional architectural backdrop as its setting and has a picturesque location for significant social events, large and small weddings, and milestone celebrations. In an interaction with Naval Shekhawat, CEO of the property where he shares details about the Holiday Village Resort & Spa Kandla
Naval Shekhawat has experienced many years in the hospitality sector which help him set his property apart, he truly values the hard work that every team member puts in, and he believes in taking care of employees so that they can treat each guest well.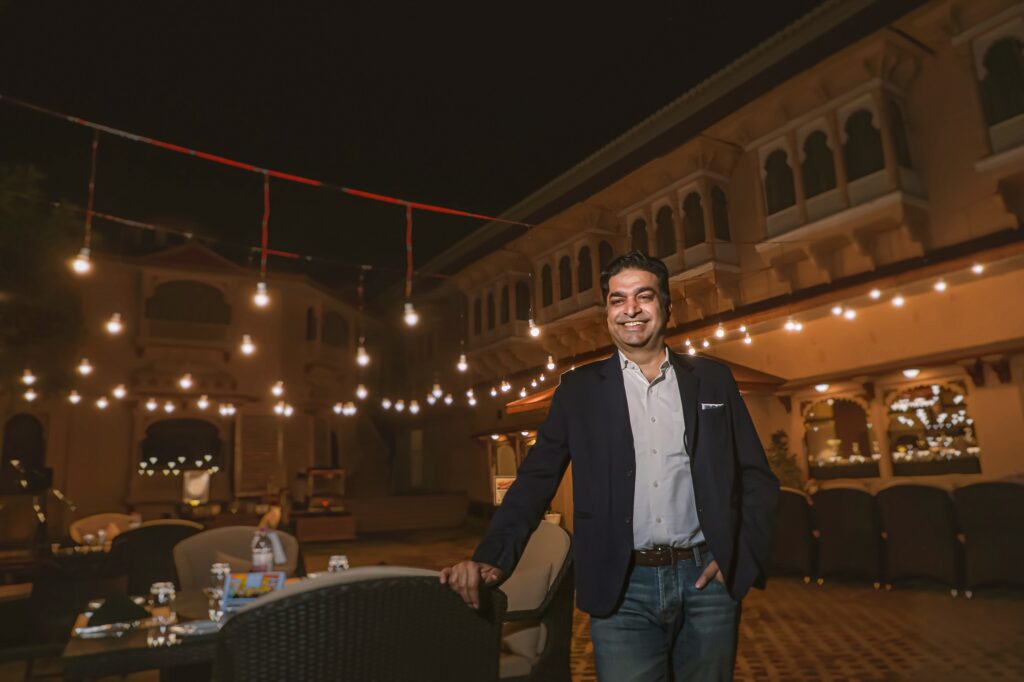 What type of clientele does Holiday Village Resort Kandla serve?
Elite Club Members are the backbone of Holiday Village Resort. It wouldn't be possible for Holiday to exist without them. Due to Gandhidham's location near two major ports, a transport hub, and a special economic zone, it is not a leisure area, so the entire hotel industry relies heavily on corporates. Those planning a royal wedding or looking for a luxurious lifestyle in the Kutch region. It has been Holiday's pleasure to serve these types of clients for over two decades.
How do you plan to face the competition with homestays and budget accommodations?
We are an all-inclusive resort. Homestays are very small and cannot offer the level of expertise and service we can. A landscape does not play an important role in this destination, as it is not a hill or resort destination. The budget segment offers a very different experience from us and guests will prefer to stay there themselves rather than move due to the high level of service and personal touch we provide.
How is the property doing in terms of MICE tourism?
The last two years have been hard, but the loss of business caused by the lockdown has been cleared in these 2 quarters. There has been a rebound in the hotel sector, whether it is in terms of ADRs, prices, or occupancy. The leisure market is back on track, and our corporate clients have all returned. In MICE travel, groups are getting larger. Initially, it was 20, then 40, and now it's more than 100.
What are the USPs that your hotel offers vis-à-vis others in the market?
There are a number of reasons why HOLIDAY VILLAGE RESORT at Kandla is unique in its own way. At our resorts, we're working hard to capitalize on wellness as a differentiator. With 12 treatment rooms, our mega spa is unique in Kutch. Sansha Spa had collaborated with us. It is spread across 17.5 acres with lush green views, spacious rooms, large banquet spaces and recreational centres which help you plan an ideal stop over for a fun-filled memorable vacation. Holiday Village Resort is an oasis in the middle of Kutch and is nestled far from the chaotic city centre. It is easily accessible and is located 12 km from the famous Kandla Port, 60 km from Bhuj and 90 km from the scenic Mandvi Beach. This is the only property in the city with such beautiful views, and more importantly, something for everyone. We offer a full range of recreational activities listed below and facilities all under one roof.
.
 What all is planned in terms of expansion, adding new experiences, customer delight etc. for the future?
To provide a one-stop shop for wedding guests, we plan to add four villas for small family parties and 60 more rooms over the next few years. Our customer delights include morning yoga and weekend workshops like paper art and photography for our guests and members. We offer members a studio kitchen experience with a chef creating new recipes for guests, a Hi-Tea experience on the lawn, etc.
 What do you think of sustainability and its importance in hospitality?
 Implementing sustainable practices in a hotel improves the customer experience and the likelihood that customers will return. By following the green route, you can improve loyalty and word-of-mouth marketing, as well as customer satisfaction. A natural extension of avoiding disposable plastics, eliminating unnecessary paper consumption opt-in receipts and reducing food waste, more far-reaching ethical and environmental considerations are shaping decisions made and implemented at the management level.
What, according to you, is the latest trend in the hospitality industry? 
The following are the latest trends according to the current scenario:
Hotel workspaces for leisure travellers: Working remotely has today become commonplace for many employees and is forecasted to become more than just a passing trend.
 A holistic approach to hospitality, health, and well-being: Preventative medicine and self-care are undisputedly trending right now due to the COVID pandemic. The wellness industry is transforming into a booming trillion-dollar market and hospitality venues are well-positioned to take a large piece of the pie, especially those with existing spa facilities.
Providing guests with a digitally enhanced experience: Traditionally, customer-facing services are being given an overhaul thanks to the more widespread use of technology-assisted options, such as mobile check-in, contactless payments, voice control and biometrics.
 Individualization: Today's guests have grown to expect to be recognized and treated as individuals, simply adding the customer's name to email greetings, data provides insight into past buying habits, enabling hotels to tailor their offers and promotions, and automatically provide similar services to previous stays.
 Staycations: Staycations have grown in popularity due to travel restrictions in 2020 and 2021.