Tucked away in the quaint bylanes of Bhonsale Nagar, and surrounded by lush greenery, Mauji – The Time Cafe  sits
beautifully nestled in a two-storey sprawling bungalow. As you step inside, it's always the aroma of freshly-brewed coffee that will fill you up with a sudden boost of energy. Every little element here peps you up to start a conversation. Born out of passion during the pandemic, Mauji is an evolved Russian concept of a time café.
Entrepreneur Vandita Purohit's Indo Bohemian Cafe in Pune is a haven that breathes creativity with a natural affinity.  Step inside, and you will be welcomed by a myriad of quirks. An old Bajaj Chetak scooter that Vandita picked up from a scrap dealer, now stands happily as a reception counter – the first thing to catch your eye as you let yourself in through a big grey door. Vandita envisioned Mauji as a space that spells warmth and embraces everyone with open arms. And that's exactly how it makes everyone feel.
Vandita's love for restoring almost anything to everything, recycling, and upcycling reflects all around this space. As you keep exploring more, you will see a plethora of art objects which are both intrinsic and eccentric. Like the cozy yellow couches where once you sit, you will literally find yourself buried for hours. These sofas came along with the property and were essentially torn and ripped. Instead of throwing them away and replacing them with new ones, Vandita decided to give them a complete makeover. Similarly, the pretty little stools sitting around the tables elsewhere were actually the drawers of an old cupboard.
The interesting pictures in the frames hanging on the walls are nothing but the cutouts from several journals Vandita picked up during her travels across the world. For her, 'use and throw' doesn't exist, everything is 'use and reuse'. And that's what makes this whole space all the more amiable. The colorful drapes falling from the ceiling are her mother's old sarees. Whenever she would feel inspired, she would spend a whole night turning an empty wall into a piece of art.  Another highlight of this cafe is that the set-up, interiors and all the furniture is arranged in an extremely flexible manner. Vandita believes in moving her furniture around from time to time in a way that it gives the cafe a completely new look. Vandita believes that with changing a few elements here and there, the vibe of the place changes completely and this helps in breaking the monotony of the place.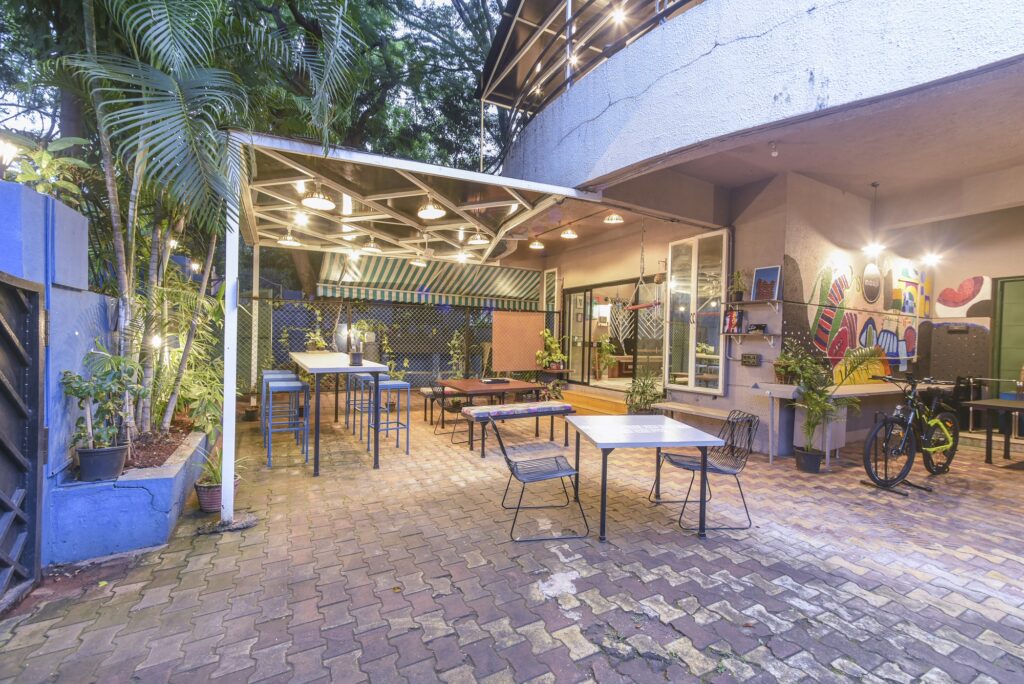 Besides its unique concept of being a time cafe – which literally means you pay for the time that you spend here while your beverages are on the house. Mauji offers multiple experiences for multiple moods – specially curated for its patrons. The property hosts a studio space, a coworking space, an event space, a maker's space, a screening lounge, and a library. Even the food here is prepared from scratch every day and customized to perfection for each customer according to their taste bud and preference.
The pure vibe and good chaos are how this place can be described in a few words. And it is true when Vandita says to everyone who pays a visit, that "at Mauji, you can be a manmauji!"
Here's an interview with Vandita Purohit, where she tells us more about her journey as she conceptualized her idea of Mauji Cafe.
How did you come up with this concept restaurant?
A few years back I visited a work cafe in Paris, I really liked the idea for a lot of reasons. For one, I think it was solving a real problem that work-from-home individuals or freelancers usually face, they don't exactly need a dedicated co-working space and they can't work from a cafe. Also, I observed that we have no place to go to minus food and coffee. If I have to meet a friend or have a meeting outside, it meant I will have to eat and have coffee/tea. I felt that needed to change. People want places that were ambient and allowed them to spend time the way they wanted, which may or may not include ordering food and beverage.
That's where Mauji was born.  When I found an investor for this, I developed a full-fledged idea around Mauji – the Time Cafe.
What were the challenges you faced due to the pandemic?
Well, there were many challenges, all of us were going through something or the other. Apart from the constant nervousness about how things would turn out, to basic vendor challenges and talent acquisition we had it all
The most critical one though was marketing, since we opened right after the first lockdown at the end of 2020, we had very limited ways to market, the market at that time was still not completely open and we didn't know how to adapt to that.
What are some of your earliest associations with food?  
Apart from the fact that my mother is an exceptional cook, I have been very well travelled, fortunately. Travelling exposed me to different cuisines, flavours and also ways of presenting. I am a keen observer of things and travelling taught me a lot that way. I won't call myself a foodie, but I like trying new things. Growing up I had the most amazing food at home and I understand flavours and what goes well with what quite well. And I absolutely love cooking for others, trying my own recipes once in a while and following a few food bloggers on Instagram. 
So I would say outside my home, travel has allowed me to explore a lot of food.
According to you, what is the USP of  Mauji Cafe?
Mauji is a vibe and that's what makes it stand out. Other than being a really cool concept, we take a lot of pride in the way it has been designed. We have made it very personal and warm, we always wanted it to give that home-away-from-home feeling.
And on a side note, another USP I feel is – that you don't have to pace an order in order to spend time at Mauji.
From where do you source your ingredients, and how do you test the quality of your ingredients?
We source everything from local vendors, we usually use branded products that we use at our own homes or we collaborate with local businesses around.
What is your idea of a perfect meal? 
Hmmm… that's a tricky one. I think my perfect meal is daal chawal and onion salad and great company. I hate eating alone.
What are some of your favourite dishes from the menu?
I love the saucy paneer sandwich (absolutely must try) and our white sauce pasta.
Any expansion plans?
We are looking to expand to other cities and are currently looking for the right kind of properties and partners.