One of the secured and largely favoured modes of travel is one's private vehicle. Everyone prefers to travel with their kith & kin to a destination in their vehicle. That is why road trips are most memorable and beyond compare. One can listen to her/his favourite music, feel the gentle wind, chat with the co-travellers and enjoy all the picturesque views. Road trips bring in a fantastic experience. With thousands of kilometres of roads across India, one can always decide which road to drive on.
However, few routes are counted among the unsurpassed to elevate the experience of road trips. A few of the most scenic highways of India are featured here.
Mumbai to Goa
The most recommended route for Mumbai to Goa road trip is through NH 66. This route takes about 14 hours by car, which is approximately 577 km. This winding route of NH 66 offers a thrilling ride, with the magnificent Western Ghats as the backdrop. Adding to the whole experience are the narrow, steep roads at high altitudes. Your driving skills will be tested while manoeuvring the vehicle through terrains and tricky corners.
You will come across a number of spots to explore on this journey. This route includes historic sites, heritage structures, and even religious destinations. Commencing from Mumbai, this route will take you through Panvel, Pen, Kolad, Khed, Chiplun, Pali, and Sawantwadi before you finally reach Goa. You can visit the Karnala Bird Sanctuary, Karnala Fort, and Tamhini Ghat Waterfalls. Kolad and Chiplun are popular stopovers for breakfast and lunch. You can taste some satisfying local cuisines in both of these places.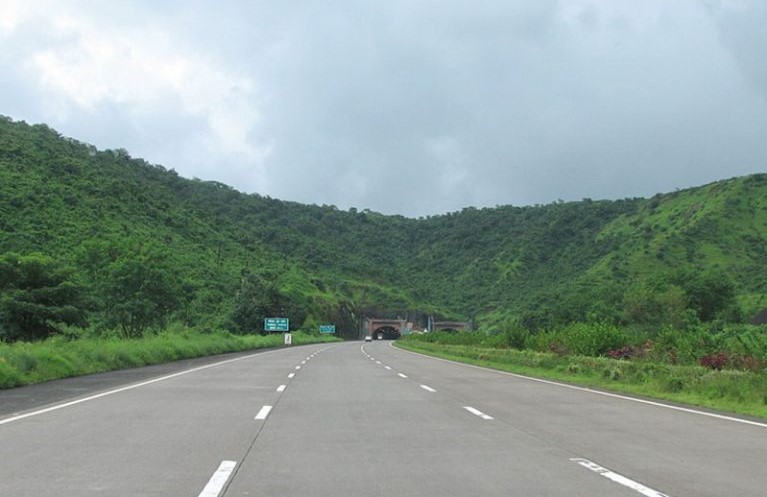 Bangalore to Ooty
The commonly taken route from Bangalore to Ooty is approximately 280 km. It is through NH 275 and takes around 7 hours. This road is also referred to as the Mysore Masinagudi Route. This journey is filled with magnificent sights of the awe-inspiring Nilgiri hills, tea gardens, and serene waterfalls. Start early in the morning to enjoy the sunrise at the Kanva reservoir in Ramanagara. The natural scenery in the morning can be breathtaking.
While driving on this route, you can explore Mysore, the City of Palaces, Nanjangud, the Town of Temples and Bananas, the Bandipur National Park, the Mudumalai Tiger Reserve and the Kokkare Bellur Bird Sanctuary. For wine lovers, there is the Heritage Winery near Channapatna. You will come across lots of great places to eat along the way.
Visakhapatnam to Araku Valley
The road trip from Vishakapatnam to Araku Valley is of just about 3 hours. It is approximately 120 km. The road journey to Araku Valley is nothing less than stunning. Long stretches of green paddy fields have small patches of red soil in between. This incredible sight extends to the foothills of the Eastern Ghats. This route is adorned with beautiful streams, sprawling plantations and rich landscapes. The Galikonda Peak offers a panoramic view of Eastern Ghat Hills and the valley below. The Katiki Waterfall is another spot which adds attractiveness to this road trip.
On your trip from Visakhapatnam to Araku Valley, you will come across the Padmapuram Botanical Garden, Ananthagiri Coffee Plantation, and Borra Caves. There are plenty of coffee plantations on the hill slopes. You can test local coffee and buy it near the plantation area by the side of the road.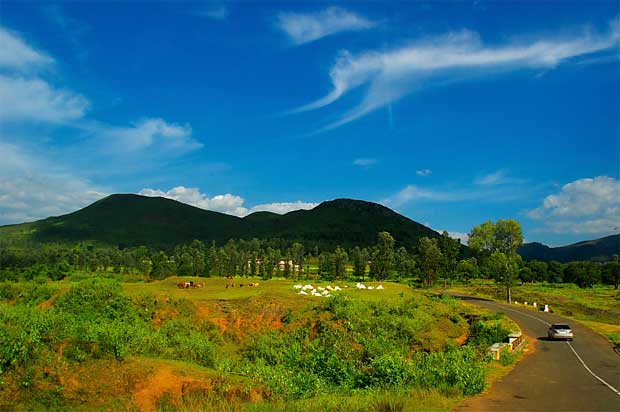 Chennai to Pondicherry
Most people prefer to drive on the picturesque East Coast Road (ECR) while travelling from Chennai to Pondicherry. This is State Highway 49 and runs along the Bay of Bengal coastline, which is nearly 165 km long. This two-lane road never gets congested, which allows vehicles to drive freely and reach Pondicherry in almost three and a half hours. While driving on this road, you would come across Paradise Beach, Kovalam Beach, Mahabalipuram or Mamallapuram, Cholamandal Artists' Village, Alamparai Fort and Auroville.
Paradise Beach, also known as Plage Paradiso, is adorned with golden sands and surrounded by stunning landscapes. The beach is less crowded and constantly flows with pleasant, cool breezes. Kovalam Beach is in Covelong village and has pristine sands. Mahabalipuram or Mamallapuram is a UNESCO World Heritage Site.  You would see awe-inspiring monuments built during the Pallava dynasty that dates back to the 8th century. Moreover, this place holds the reputation of serving great authentic seafood.
People opt for road trips to reach a desired location for recreational purposes, which involves sightseeing, usually during a vacation period. It is often said that "Sometimes the journey is more beautiful than the destination."