The power of science and research is fuelling the future of skincare. With the advancements in the skincare science and rising consumer awareness, people are looking for products with scientific combinations and proven results to form their skincare regime.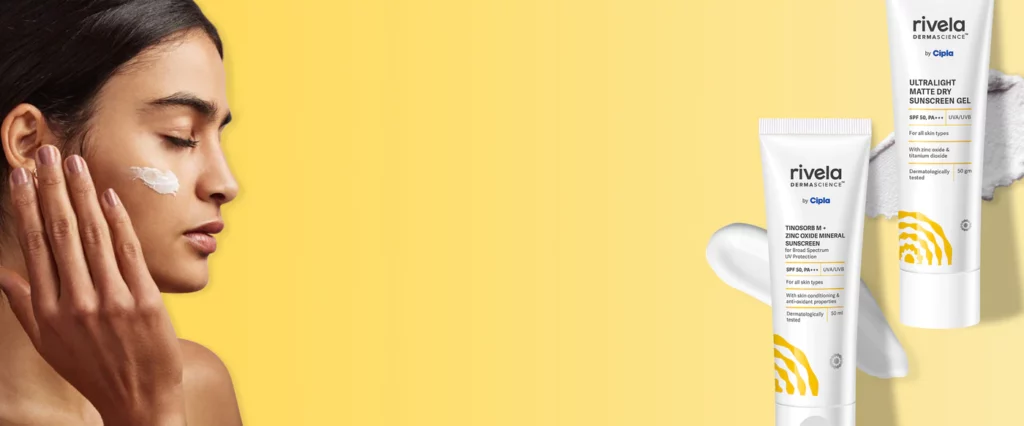 Realising the growing interest and the efficacy of such products, Rivela Dermascience brings you an array of products designed to address various skin concerns, effectively. Rivela Dermascience, a brand from the trusted house of Cipla, was founded to bring together Cipla's multi-decade science-backed expertise and the ever-developing advancements in dermatological research. Rivela Dermascience products are developed by scientists and dermatologically tested on the Indian skin by leading labs in the country for their efficacy and safety against any allergies, reactions or inflammations. These clinical tests are conducted under standardised protocols and under the guidance of dermatologists.
Here are a few products from Rivela Dermascience that you must include in your skincare regime to protect your skin barrier and ensure a glowing skin.
Tinosorb M + Zinc Oxide Mineral Sunscreen
It is an advanced mineral-based sunscreen with a wide spectrum of protection, developed for a non-sticky feel and smooth finish. It is infused with result-driven clinically proven ingredients like Tinosorb M, Zinc Oxide and Titanium Dioxide to protect and form an invisible screen over the surface of the skin for maximised defence.
It is a natural moisturiser with powers against the damages posed by the Sun and pollution to protect the skin from any sort of pigmentation, scarring or wrinkling. With the infusion of SPF 50 PA+++ and superpowers of antioxidants, this Sunscreen conditions and nourishes the skin so as to not make it appear cracked or patchy.
2% Salicylic Acid + Hyaluronic Acid Face Cleanser

Designed carefully to combat active acne, this sulfate-free face cleanser gently decongests pores, exfoliates dead skin cells and extracts dirt and sebum. Cleansing out the impurities without over-drying the skin, the cleanser soothes the skin from active acne and inflammation and improves skin hydration.
Science-backed formulation of Salicylic Acid and Tea Tree Oil deeply penetrates the pores to remove clogged oil and skin cell build-up. The potency of Hyaluronic Acid helps the skin lock in moisture to improve skin barrier function. Tea Tree Oil reduces acne-causing bacteria, thus soothing skin and preventing over-drying.
10% Vitamin C Serum with Hyaluronic Acid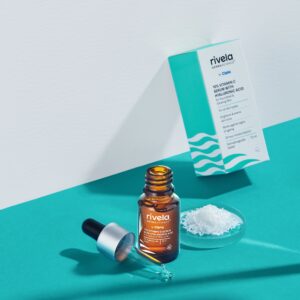 It is a glow-boosting serum that brightens and improves the appearance of the skin by combating uneven skin tone from the core for nourished and glowing skin. It also effectively smoothens fine lines and wrinkles to give a supple, radiant look. It is enriched with soothing properties for maximised hydration for up to 24 hours.
Science-backed formulation of Hyaluronic Acid and Vitamin C hydrates and plumps saggy skin to give a youthfully enriched look, that shines bright, is smooth and firm with an even skin tone. It effectively locks in moisture and reduces dark spots.
10% Niacinamide + 1% Hyaluronic Acid Serum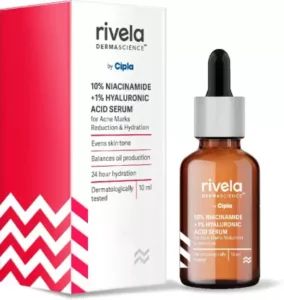 It is an acne marks relieving serum with 10% Niacinamide, which combats acne scars to promote radiant-looking skin with an even tone. It is enriched with the soothing properties of 1% Hyaluronic acid for hydration up to 24 hours. A potent science backed formulation of Hyaluronic Acid and Niacinamide reduces scars, promotes hydration for plump looking skin and evens out skin tone from the very core. The curation of these ingredients keeps oil and sebum production in check, thus helping to add natural shine to the skin.
Witch Hazel Toner
It is a daily gentle exfoliating, skin conditioning, pore tightening and skin hydrating toner to cleanse and extract excessive oil and sebum on your skin. It is carefully curated to suit all types of skin, especially acne-prone and dry skin, to hydrate and soothe the skin thoroughly.
With the goodness of Witch Hazel, Allantoin and 6 Botanical Extracts to act as a natural astringent, to cleanse your skin and tighten your pores. They also have anti-inflammatory properties and help to reduce acne. It is packed with antioxidants, vitamins & nutrients that soothe and calm the skin, Cucumber extract moisturises and hydrates to the very core.
Multi Peptide Under Eye Cream
This multi-peptide eye cream brightens and improves the appearance of skin by combating dark circles from the core. It also effectively smoothens out fine lines and wrinkles to give a supple, radiant look. The eye cream helps reduce under-eye bags, evens out fine lines and/or bumps and targets the visible signs of ageing.
It is a science-backed formulation of Matrixyl 3000, AGH and Hyaluronic Acid to hydrate and plump saggy skin to give a youthfully enriched look. HA effectively binds water to collagen to flourish a supple appearance.