Blending modern splendour with the vibrant old-world traditions of Gujarat, The Leela Gandhinagar is a spectacular 318 room hotel, located atop the concourse of the Gandhinagar railway station, near the Mahatma Mandir Convention and Exhibition Centre managed by The Leela.
The Leela Gandhinagar is an ideal impromptu destination getaway, coupled with delicious & exotic cuisines in their restaurants and these restaurants are shepherd by very experienced and expert Chef Ashis Rout, the Executive Chef at The Leela Gandhinagar. Chef is in the industry for the last two decades and has notable expertise in food and beverage. He has worked with various hotels of Hyatt, (Ananda in the Himalayas) IHHR hospitality, Marriott International, Intercontinental Hotel Group, Accor (mainly pre-opening).
Recently, we interviewed Chef Ashis Rout where he shares his challenges and his views on the dynamic hospitality industry. 
Please narrate us your journey in the fraternity. 
The journey has been amazing. It's been like a rollercoaster ride, full of great learnings, emotional outbursts, full of energy, and passion. If I have to describe it in one word, I will say it's been like a movie. I have met some excellent people, who have become my mentors. Over the period, I have learnt from all my mentors who have helped me shape my career. It's the industry where I have grown from a Hotel Operations trainee initially to an Executive Chef at The Leela Gandhinagar today. Growing from one stage to the other needs a lot of passion, creativity, and constant effort. One thing I have learnt during my journey is that you must be dynamic and agile, change your style and upgrade your skills, to keep pace with the times.
What is your food philosophy?
The words which I use to describe my cuisine in simple words – Uncomplicated, Fresh, Contemporary, Inspired, and Innovative.
Uncomplicated – No myriad steps of cooking procedures, no intricate decorations, uncomplicated flavours, right seasoning, and cooking to complement the natural taste and flavours are the mantra of my cuisine.
Fresh – Freshest ingredients of the best quality are at the core of my cooking. I take pride in serving the freshest produce available in the market.
Contemporary – Modern presentations, new cooking techniques, different textures & styles are what my cuisine is about.
Inspired – My cooking has evolved through the years and has been influenced and moulded by my colleagues, mentors, guests, celebrity chefs whom I have met, whose books I have read or whose TV programmes I have watched. My cuisine also reflects the places I have been to and the people I have met and drawn inspiration from.
Innovative – I have always been intrigued by new and sometimes unconventional mixes and matches of spices, flavours, and cooking techniques.
How has the hospitality industry as a whole changed due to the pandemic?
Yes, the pandemic has presented a global challenge to us all, especially during the first two waves of the pandemic. Being part of the industry for over two decades, today all of us are realising the need to change and evolve to adapt to the changing circumstances. There is a greater focus on health and hygiene today. We follow guest safety and hygiene standards for all. There is also a higher adoption of digital technologies to provide touchless services to ensure safety of the guests and staff.
How do you see the food scene changing in India?
Today the palate has evolved more among the audience with the growing culture of trying new things and looking to achieve authenticity in the process. For me, what's on the plate is more than just a matter of flavour and texture. It's all about nutrition and how it affects one's health. Over the period of time, I have realized that the taste and quality of ingredients is key to retaining guest loyalty over a longer period. No matter the dish-health or your favourite meal, the taste and memory created from the first bite is something today everyone remembers along with the overall experience.
Is there anything that you won't cook with, that you hate?
It's like asking a parent which child of yours you like more. I don't associate hate with anything related to food, so there isn't anything that I don't like in particular for cooking. However, if you want to know about the ingredients I avoid using in my culinary trails – I don't prefer using bamboo shoot because of its strong aroma.
Is there a secret ingredient that you love to cook with?
Like every chef, I also have a secret ingredient that helps me come up with tasty dishes every time. This secret ingredient is Passion. From the day I started my career, being passionate and driven is one of the key ingredients for any chef today to grow.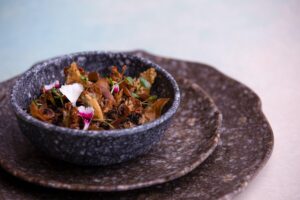 Which is your signature dish?
My love for mushrooms and Foie gras has grown day by day so one of my signature dishes is "Porcini flower pot" and the other is Torchon of Foiegras, a classic dish made from Foie gras.
Which is your best experience of being a Chef and which is the most challenging?
When you see people who have trained under you grow to your level and become your counterpart is the best experience that a chef can have. The most challenging job for me as a chef is to keep the youngsters motivated and make them understand why it is so important to focus on every single aspect, starting from procurement to plating to deliver a great dish.
What precautions and protocols do you follow for your functioning in the hotel?
We make optimum use of technology for greater efficiency in our processes. At The Leela, we have very strict protocols across verticals, including the food and beverage vertical, and we follow them. We also take all the necessary precautions that are part of our standard operating procedure to ensure hygiene, health, and safety. We also ensure compliance with the necessary government guidelines for the pandemic.
What is your advice to young chefs looking to make a mark?
The most important ingredient for young chefs is patience. They must also cultivate the necessary knowledge, study the history of food, not just their dish or technique, but also the background knowledge. Stay focused on cooking and invest in yourself. To become a great chef, the most important thing is to work with great chefs, so find a Mentor and follow.