L'OPERA 
L'Opéra this year has curated a beautiful range of glittering hampers suited best to the occasion, in addition to its signature baskets and boxes, for gifting. Laurent Samandari, the CEO and Co-Founder of L'Opéra, who personally oversaw the preparation of this year's Diwali collection said, "Green, lavender and peach, ornated with elegant gold and silver recall the purity of the celebration and the elegance of the brand". L'Opéra has also introduced a line of new leather baskets and hexagonal boxes in the most elegant colours along with rich wooden trays to complement its signature delicacies. Amit Kumar, Chef at L'Opéra adds, "Our selection of gift hampers with the vast range of tea-cakes, biscuits, pralines, preserves, colourful dragées, flavourful teas and the mouth-watering macarons of L'Opéra complemented with traditional dry nuts will certainly make this year's Diwali an unforgettable one". Price- Rs 500 onwards, Available at- All L'opera stores
 HONEY & DOUGH
Honey & Dough is a renowned bakery and coffeehouse and a one-stop-destination for premium quality and authentic global baked goods, freshly brewed coffee, custom deserts, decadent chocolates as well as savoury offerings.  "This year, Honey & Dough wanted to give a reason for celebration to all those who spent weeks and months in confinement, From quite some time celebrations have been on hold, but it seems now we are much prepared to accept the New normal and can rejoice Diwali, Says Aavika, As the Festive Season rears its head, Honey & Dough prepares to offer you a unique gifting experience. The gifting range starts from 500 INR to 3500 INR.  Our large selection of gift hampers certainly make this year's Diwali an unforgettable one." The New introductions of the boxes which are as beautiful as innovative ranges from Traditional Jar flab box, Dori box, Star boxes and leather trunks. The wooden dessert-grazing box is the perfect fit and suitable to Sturdy box, packaging material made of premium quality, and industry-defined protocols have been followed to ensure safe delivery of the hampers to the customer. The leather trunk boxes, available in pink & blue colour and stripes box are surely contemporary and attract the youth taste as well.  These different boxes have special Honey & Dough delights that includes Oatmeal & Raisin Cookies, Chocolate Overloaded Cookies, French Heart Cookies, Granola in Jar, Masala Raisins and Roasted Almonds, Blueberry Muffin, Oatmeal & Raisin Cookies, Cranberry & Pistachio Chocolate Bar and Garlic Soya Sticks, Chocolate Box, Fruit & Nut Chocolate Bar etc. Price – Rs 500 onwards, Instagram Page- Honeyndough, Website- www.honeyanddough.in
Honey & Dough outlets at Pacific Mall, Malviya Nagar, Janakpuri, Vasant Kunj, Pitampura, Gurgaon etc
BAKEHOUSE BY CAFÉ DELHI HEIGHTS
 It takes fresh bread, buttery croissant & a creamy slice of cake to make one happy! Taking Comfort to a new pitch is Delhi's new Bakehouse –COMFORT BAKEHOUSE BY CAFÉ DELHI HEIGHTS.  Helmed by Gunjan Batra from the house of the city's most flavourful & fun brand: CAFÉ DELHI HEIGHTS. A brand known to have pioneered the café culture in the country has always delivered the best of food with the fresh taste & ingredients to its patrons. Comfort Bakehouse reliably turns out aromatic loaves of naturally leavened Sourdough, croissants, vegan breads, cookies that you crave on a daily basis. This Diwali Comfort Bakehouse by Café Delhi Heights has created Gifting hampers which are Global hampers deriving inspirations from the different parts of the world. From Lebanese Grazing tray to Mexican grazing tray – these trays have specially curated delicacies doing justice to their names like Falafel, Hummus, Lavash pita bread, Marinated olive to Lebanese, Nachos, Pineapple salsa, Baked beans, tacos shell etc to Mexican and more. These trays comes as quick solutions for your house parties. There are tempting Dessert trays which carries  from Sweet /mega tray to sweet Medium tray to crates in different sizes to hampers which have varieties of Breads, sour dough, cookies, cakes and more.  Gunjan Batra says Diwali is the time to spread happiness and goodness, and we are spreading the baked love. Starting from Rs 800 onwards, Available at all Café Delhi Heights outlets as well.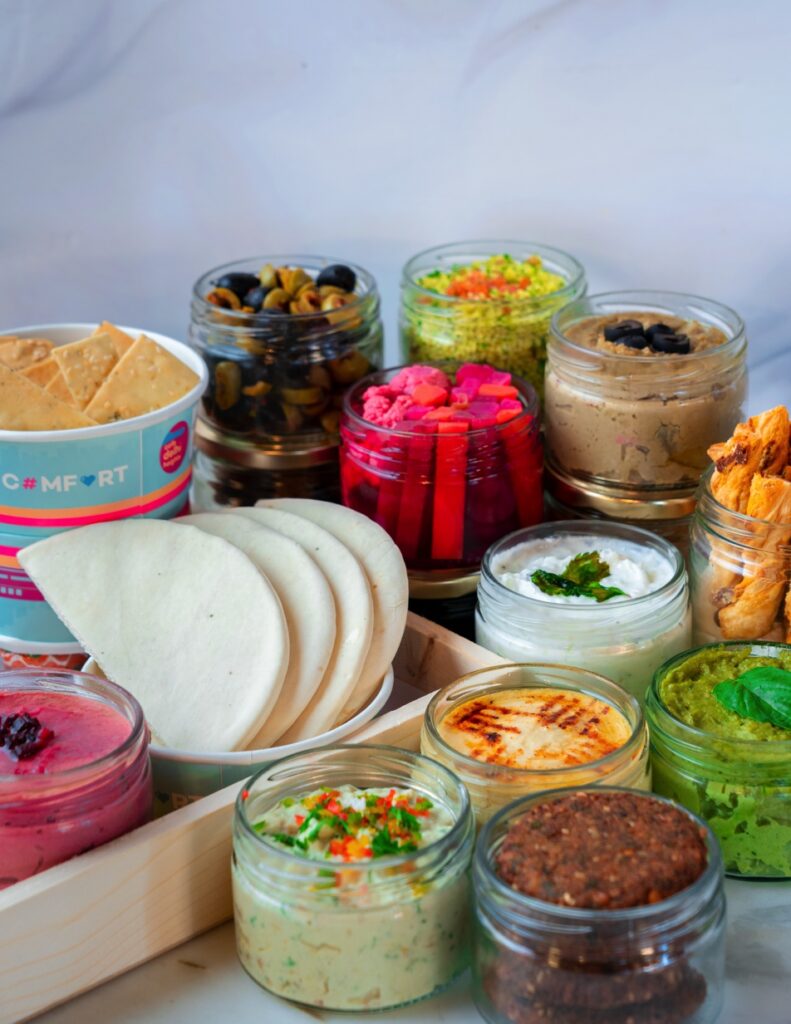 MITHAI HAMPERS FROM RANG PUNJAB
The new restaurant in Amritsar , Rang Punjab celebrating the rich glorious culture of Pind has come out with delectable Mithai hampers this Diwali .The Mithai menu has been meticulously curated to keep all the favourites while preserving the authentic taste and ensuring that the hampers are all value for money .  Intriguing flavors like Gulkand Ladoo, Masal Gur , Pind DeLadoo are available while evergreen favorites like Peda , Milk Cake , Barsi & Coconut Barfi are also there. The Diwali  Amritsar Hamper contains treasured favourites like Aam Papad, Papad, wadi  along with mixed local candies , dia & Khullad and is priced at INR 1199.. Dry fruit gur ( box of 6) is priced at INR 1100 ; Gulkand Ladoo  ( box of 22) is priced at INR 325 ;  Masala Gur and Gur Channa are priced at INR 100 per box .
THREE SIXTY 
Choose from an array of bespoke collections by Three Sixty this Diwali.
The Eden Collection Embossed Genuine leather Tray Collection includes a round serving tray with brass handles and rivets, a set of 6 Square Coasters and a tissue box embellished with matte brass detailing. A perfect gift that can be used as a serve ware or a decorative piece
INR 10,990
Entwine collection Tray Set from the Entwine Collection includes a beautiful rectangle serving tray, a tissue box holder and a set of 6 coasters all handcrafted in Vegan Leather.
INR 5,270
Poker Game Set with 159 poker chips, 5 dice, 2 decks of cards and 3 blind chips Handcrafted in genuine leather with an embossed finish, it is spacious enough to store poker cards & chips and comes with a comfortable handle for easy portability.
INR 9,900
Three Sixty Scented Candle in Metal tin with lid and genuine leather cladding is the best gift this festive season. The genuine leather is stitched in contrasting colours with rivet detailing for a touch of elegance, and can be used as a box to store small treasures after the fragrant candle is burnt.
INR 2,490
Three Sixty Embossed Genuine Leather Watch Box Organizer Case for Men and Women with 4 Slots of Watches is made from genuine leather with a croc finish & antique rivets, specially designed to protect and store your watches and come in a range of colors and styles.
INR 2,900
Modella Desk Set (Desk blotter, A4 letter tray, memo holder, pen cup) A perfect addition to any office space, the set is made in recycled leather with a smooth finish and is water resistant. INR 5,490
CURATIONS BY WELCOMHOTEL SHERATON NEW DELHI
 Let celebrations ring through your home with the warmth of our handcrafted selection of traditional and contemporary indulgences from Welcomhotel Sheraton New Delhi. Explore their range of Festive Curations featuring chef-crafted traditional and contemporary delights tailor-made to perfection. For more details, please call 88000 20848.
HAMPERS FROM THE LEELA PALACES, HOTELS AND RESORTS
As an ode to the spirit of festivity, The Leela presents a thoughtfully curated gourmet collection of warm wishes and good cheer, Signatures by The Leela. Choose from an array of options such as artisanal chocolate pralines, cookies, Indian sweets and savouries, scented candles, glorious idols of Lord Ganesha and lots more; Or customise the hamper with exquisite offerings in stunning, intricately designed signature packaging including boxes and Leatherette bags. This year's edition of Signatures by The Leela also includes a thoughtfully crafted range of Aujasya by The Leela hampers, inspired by the brand's recently launched wellness program. To know more, please visit https://www.theleela.com/gift-hampers
 GIFTING GUIDE BY THE GIFT STUDIO
The Gift Studio, a brand that caters to all your gifting needs, be it personal or corporate. Launched in October 2020 by Shashwat and Shivika Goenka, The Gift Studio is a one-stop curated gifting solution to make gifting thoughtful, easy, special & unique – for both the giver and the receiver. The brand aims to turn gifting from a tiring chore into a memorable experience, with thoughtfully curated hamper options that are flexible and endlessly customisable. The hampers come in several price ranges that are accessible to customers with varied budgets. Mystic Dawn (Rs. 1,299) includes an Entisi Chocolate Bar, Mix Dried Fruit, Lotus Diya, Incense Stick and Ubtan. Within the mid-range hampers, chocolate lovers will enjoy Chocolatier's Crate (Rs. 2,299) which includes a delicious assortment of chocolate brands like Lindt, Le Pure, Galaxy, Artisante, Entisi Dragees and Milka.
For those who prefer healthier options, Guilt-Free Diwali (Rs. 2,599) makes for a perfect gifting option. This curation includes Whole Truth Date Chocolate Bars, Trail Mix, Oh Cha Green Tea, Beej Crackers and Sea Salt Caramel Almonds. In addition to these offerings, The Gift Studio also allows customers to choose their packaging options which range from trays, gift bags, bento boxes, leather baskets, briefcases and more. The Gift Studio's Festive Hampers are available to purchase on their website – www.thegiftstudio.in. The brand offers pan-India delivery and is also present in leading supermarket chains – Nature's Basket and Spencer's.  For more information, please contact :www.thegiftstudio.in , Whatsapp ordering: 7596022476