Aahana – The Corbett Wilderness Resort is conveniently situated in the Dhela part of Jim Corbett. The resort offers an opulent stay with all the comforts and cares imaginable. So, whether it's a romantic getaway, a solo experience, or a family vacation, there's something for everyone. The resort today has been featured as the 'Top 25 Luxury Resorts of India' by TripAdvisor consecutively for the last seven years. The resort has also been awarded as a Top Eco-lodge by various National and International bodies.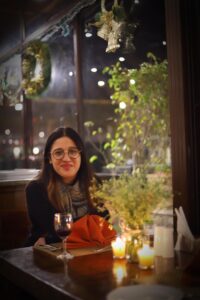 In an exclusive interview with Ms Ayu Tripathi, Director, Aahana the Corbett Wilderness Resort, she shares insights about the property and its sustainable initiatives.
Ms Ayu Tripathi is a social entrepreneur and belongs to the lake city of Nainital from where she completed her schooling. After her graduation in 2015 she started managing operations at Aahana Resort – a project she has been associated with for over a decade now. Ms Ayu, also started a cleanliness initiative in the surrounding village and today has adopted two schools who participate in this cleanliness initiative. She also started a skill-based training program for village women many of whom work with her. She has been awarded as a Young Women Entrepreneur by the World Women Leadership Congress and was also the youngest member of the Uttarakhand Tourism Board.
Tell us about your journey. How did it all start?
My father Mr Kamal Tripathi, whose brainchild Aahana is, has been a well-renowned realtor and estate developer in Uttarakhand. Belonging to a family of freedom fighters he always wanted to live in the state and create employment for people and focus on Uttarakhand's development. In the year 2005, he purchased almost around 13.5 acres of barren land which had been deemed unfit for cultivation with a vision of developing a hospitality model which was unheard of during those days. He wanted to showcase to the world how sustainability can be combined with luxury and the two could co-exist. And that's how our journey began. Today, this once upon-a-time barren piece of land is home to over 4,500+ trees of 200 different local species, 200+ species of birds and 50+ species of butterflies. Aahana boasts of the largest Eco-Friendly Sewage treatment plant in the whole of Asia, manages all its waste in-house and makes use of solar energy for heating and lighting. Today after a decade of successfully running this model Aahana has made its mark as a Responsible Luxury provider in the country. Aahana is truly a passion project.
What do you think it takes to succeed in this industry?
We belong to a country which believes in the age-old principle of "Athithi Devo Bhavo". As a country, we have set a very high standard of hospitality and I truly believe that this is the essence of our industry. Every traveller wants to feel special. I feel that more than anything that differentiates one hotel from the other is the experience that it offers. To succeed in this industry, it's crucial to understand your customers' needs and be able to fulfil those. Hotels which are customer-centric and can create a 'Wow' factor through human interactions are the ones that truly make their mark in the industry.
What are some of the trends you see impacting the hospitality industry? 
I would say there has been a major shift in the way people travel after the acute phase of the pandemic. A lot of changes that took place due to Covid are shaping the hospitality industry. Like Bleisure travel, today big companies have announced that they are going to continue following a hybrid model because of which staycations have become popular, hotels are being used as makeshift offices and most hotels have created workspaces with hi-speed WI-FI, ample of sockets and great coffee.
Wellness tourism is here to stay, we all have seen how the wellness industry is booming and hotels with spa facilities are now extending their focus to offer therapies to manage stress and help induce sleep. A lot of spas now have wellness experts, and more and more people want to explore alternative therapies to improve their health and focus on overall wellbeing.
Sustainability is another trend which has been there for a while, but I think post pandemic it has been playing a very important role in the tourism industry. Travellers are more aware and are making conscious travel decisions. Also, the trend towards digital and contactless services has gained new momentum since the pandemic and a lot of hoteliers are now using various apps to manage contactless guest experience.
Can you share some of the technology that you use that helps in enhancing the guest experience? 
We are making use of technology to provide our guests with a customised travel experience wherein technology plays a major role in helping us understand their needs even before they are here. Keeping in mind the covid climate, we have also enabled a contactless check-in for our guests. We also use a lot of tech-enabled tools for data collection and email marketing which helps us stay connected with our patrons. We use AI and deep tech to reach out to the right audience. Technology has also helped enhance our infrastructural experience for our guests. We use UV technology in the pool which ensures that the PH level of water always matches that of the human eye. We are using solar heat pumps which are eco-friendly and super-efficient.
Community engagement is an important part of any platform. How are you ensuring that you engage with your community?
I still remember one of the conversations I had with my dad when we were walking around the barren piece of land we now know as Aahana. He told me how growth must be holistic, and we grow only when people around us grow. When he was envisioning Aahana, he was not only looking at putting Aahana on the map but also building the village along with it. I can proudly say how the community has always been a part of us and has played a great role in Aahana's development. In the initial years, while we were developing the land, we also started tackling problems the village was facing.
We spoke to the community and told them how we wanted them to be a part of our project and since then there has been no looking back. Right from the development phase to construction, we decided to do everything locally, we appointed local people. Local artisans have played an important role and today 97% of our staff belongs to Uttarakhand with most of them belonging to the village where Aahana is located. I have been running cleanliness workshops with school children for over 5 years now, we teach them the importance of sanitation and hygiene. We also work with the two government schools situated close by and help them with their basic requirements. We also encourage farmers around us to grow vegetables for us and purchase all their produce. We run training programs from time to time for the local community and then absorb them into our system. Today, I truly know what dad meant when he told me that growth must be holistic. We call ourselves members of the Aahana family and I can proudly say that each member of my team truly believes that.
What are Aahana's key selling points?
What makes Aahana unique is how luxury and sustainability co-exist here. We offer all 5-star amenities and yet focus on reducing our carbon footprint. Today's traveller is very mindful of his actions and how they impact the environment. We get a lot of travellers who choose us because they want to be responsible without compromising on luxury. At Aahana, our focus is totally on providing a personalised and customised experience to each of our guests. Our team constantly focuses on understanding customer needs and delivering the same. Spread over 13.5 acres our built-up area is less than 20 per cent. We have a 1.2 km long walking track on our premises, we have our own organic farms on and around the premises and a lot of our vegetables and fruits come from there. Our aim has always been to create a very unique and memorable experience for our guests so that they are truly able to experience nature, the wilderness of Corbett and the place (its food and culture) in the most luxurious manner.
And lastly, what personal message do you want to convey to both our audience and your guests about the sustainability practices and eco-initiatives at Aahana?
I truly believe that each one of us is responsible for the planet and its health. We all must play our part in reducing our own carbon footprint daily. A few things that I would like to share with all of you about our practices would be –
We recycle 100 per cent of our water through a completely natural process without using any energy or chemicals and we re-use this water in our gardens. Today, our plant has been recognised as the largest of its kind in Asia and the Uttarakhand government is also promoting it.
We manage all our waste in-house. All the bio-degradable waste goes for composting, we reuse a lot of items in different ways and send others for recycling.
We make our own organic sprays which help us control pests and mosquitoes on our premises. Our plantation has been done very scientifically and we grow a lot of medicinal plants and herbs that ward off mosquitoes.
We make use of solar power for heating water and a lot of solar lamps and lights have been installed.
Our motto is to be in sync with our surroundings and we try our best to reduce any negative impact on planet Earth!!