In light of increasing pilot fatigue incidents in India, the Chairman of SkyOne FZE, Mr Jaideep Mirchandani, reiterates the need for balanced schedules and crew rostering solutions.
In August 2023, a domestic flight pilot reportedly suffered a fatal cardiac arrest at Nagpur airport. Assigned to operate the flight to Pune, he unexpectedly collapsed in the security hold area. After this tragic event, numerous Indian pilots raised concerns about work-related stress, expressing difficulties in adhering to duty time regulations. Responding to these complaints, the Directorate General of Civil Aviation (DGCA) has initiated a pilot fatigue data review to assess regulations governing flight duty times. Experts have highlighted that the primary contributors to pilot fatigue, whether for long-range flights (LRF) or short-range flights (SRF), include issues related to sleep quality, sleep loss, and the disruption of Circadian Rhythms—physiological, mental, and behavioural changes following a 24-hour cycle. This investigation seeks to address the root causes and enhance regulations to ensure aviation safety.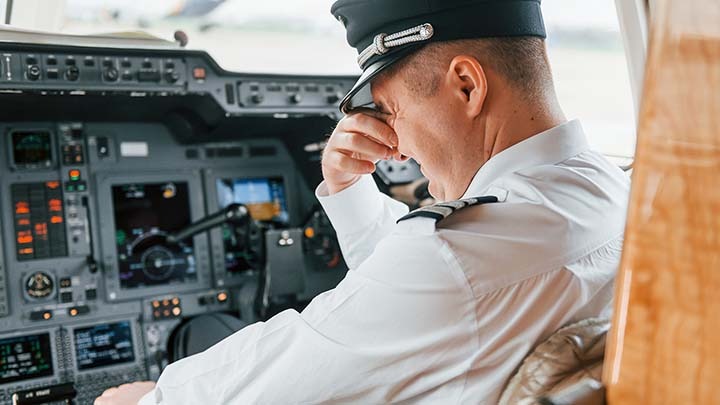 "The issue of pilot fatigue demands urgent intervention. With DGCA's decision to review pilot fatigue, the insights would help airlines and pilots. As the industry grows, safety must drive policy changes – from pilot fatigue to MRO. Going beyond traditional scheduling-focused computational models, we can leverage personal health trackers to ensure fitness – there are many ways to ensure that pilots and the passengers are safe,' says Jaideep Mirchandani, Chairman of aviation conglomerate Sky One FZE.
Meanwhile, Air India has recently unveiled two digital tools—the Pilot Sector Report (PSR) app and DocuNet—designed to elevate flight operations and enhance pilot satisfaction. These tools optimise post-flight reporting and document distribution processes, guaranteeing the accessibility of relevant and synchronized information.
"Such initiatives will provide timely breaks and leaves for pilots and the crew. Crew rostering solutions also enable pilots to specify lifestyle preferences, which are then automatically integrated into their flight schedules," adds Mr Mirchandani.
He also emphasized the need for incorporating advanced fatigue management into the training module for pilots. "In addition to technology-based training, aspiring pilots should receive insights into the scientific reasons behind fatigue. Training about key indicators and guidance on developing effective fatigue management strategies for both themselves and the airlines," says Mr Mirchandani, whose Pier Seven Aviation Academy in Sharjah is one of the most sought-after pilot training institutes for Indian students.
It is estimated that, on average, a pilot spends 225 hours per month on flight time and ground duties, depending on the airline schedule. Pilots are entitled to one day off per week, along with their annual leave. According to the current Flight Time Duty Regulations, every crew member must receive rest equal to twice the flight time but not less than 10 hours within 24 consecutive hours. Additionally, all crew members should have a minimum of 24 hours of rest between 8 PM and 6 AM within any seven consecutive days.